"A Course That Will Change Your Life Forever"
 January 11, 12 & 13, 2013 (Fri, Sat, and Sun) 1-7pm
Sign up below and learn more about corrective exercise and Fit For Birth's Holistic Approach to Training Pre and Post Natal Women.
Our Program is approved by: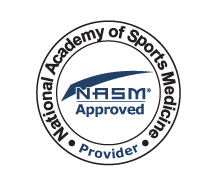 NASM 1.9  

NCSF 6
We Welcome:
 Personal trainers, yoga instructors, pilates instructors, physical or massage therapists, doulas, midwives, childbirth educators, moms, and those who are passionate about their health and the health of our future.

You may want to:
grow your existing business, start a new business or simply increase your income by providing a valuable service for pre & post-natal moms.
 As a Fit For Birth Pre and Post Natal Exercise Specialist:
You're providing tools and techniques to educate and empower women during a very special time of their lives.  These resources can potentially help  change the future of childbirth as well as chronic diseases.
Why Holistic Pre & Post-Natal Training? 
The modern world is suffering from three disastrous trends:
Rising Infertility

Avoidable birth-related surgery and drug administration that has soared to "epidemic" rates

Chronic diseases which are expected to affect nearly one in every two children today.
All three of these trends are positively affected with an understanding of just three foundational concepts: Movement, Breathing, and Mental-Emotional Thoughts & Stress.
Modern Moms are increasingly looking for passionate and competent fitness professionals to help them prepare for natural, drug-free, healthier and happier births.
Worldwide, there are approximately 323 births every minute. And at any given moment in the United States, there are at least 3.3 million pregnant women.
What this all means is that today more than ever there are exciting business and personal opportunities to make a great living by training pre & post-natal women.
Who Are We?
The founders of Fit For Birth are Kim and James.  We are proud to be entering our thirteenth year of professional personal training with a special emphasis on the unique needs of pre & post-natal women. 
Our company is in its fifth year bringing top quality education to professionals who are committed to our mission and who want to learn how to make a great living at it.  
We are equally proud of our certifications by the Chek Institute, NASM, Precision Nutrition , Pre and Post Natal Pilates,  Postural Alignment Specialist, Instructor of the Equinox Fitness Training Institute and all the wonderful people who have completed this course.

"This course has helped me understand the past and present birthing practices in the US. I gained an in-depth knowledge of holistic health for expecting and new mothers." "It has changed my perspective on training and life philosophy." 
Amanda Werner, Personal Trainer
  "Learning about birth and labor and the toll it takes on not only the woman but the baby is mind-blowing! I had some idea thanks to some psychology courses, but no class goes into this type of detail.  Everyone should take this class. Not just trainers, but women who are pregnant and their partners."
Veronica Sais, Yoga Instructor & Personal Trainer
We want our instructors to be the most knowledgeable, passionate, and effective perinatal exercise specialists in the world. We have instructors in 6 countries right now and continue to grow!  
Sign up below and learn more about corrective exercise and Fit For Birth's Holistic Approach to Training Pre and Post Natal Women.

 This program may be right for you:
If you want to make a great living by training pre & post-natal women

If you want to be a pioneer in health coaching and corrective exercise.

 

If you want to be part of the change in reversing a myriad of tragic health trends.

If you have a passion to work with pregnant women.

If you have a passion for a woman's choice to birth the way she feels best.

If you enjoy any type of exercise and want to share your love with others.

If you want to take your trainer/client relationship to the next level.

If you want to begin a career in Wellness.

If you want to stand apart from others in the fitness industry.

If you want a career that will allow you the time and flexibility to live the life you want and deserve.

If you want to be educated about modern birth culture in anticipation that you or your partner will become pregnant.
Current fitness professionals and birth professionals will be able to greatly enhance their business and increase their income by adding Fit For Birth's holistic pre and post natal  training program to their tool box.  You do not need to be female or have children to embark on this program and help change the lives of pregnant moms and their babies.
The Corrective Exercise concepts you will learn will instantly set you on a path for both healing your own body and the women you work with.   Even if you've never before had experience as a trainer.  
The corrective concepts you will master will discuss certain aspects of  anatomy and physiology that are important for enhancing the technical knowledge of trainers. 
"I believe this course could help to change our birth culture…As a massage therapist and personal trainer, I now have the tools to teach my clients to take care of their own health and prepare effectively for their pregnancy, labor, delivery and postpartum.  I can also now address issues like diastasis recti which many clients have suffered from with now support tools to deal with or heal it.  This course educates about the challenges of modern birth but also empowers the student to see that natural birth can be prepared for.  It provides tools to move forward to implement positive changes."
Morgan Danae, Massage Therapist & Personal Trainer
In the end, the goal is for you to make a generous living from your passion to help mothers through pregnancy and the post-partum period, and often longer.
A woman who is coached by an intelligent, empathetic, and well-informed Pre & Post Natal Corrective Exercise Specialist during pregnancy will often be a client for life.
Whether you are a personal trainer, yoga instructor, pilates instructor, massage therapist, working in the perinatal health industry, or aspiring wellness coach of any kind; may you find financial freedom and the highest quality of living for you and your family through attracting new perinatal clients and adding invaluable education to current clients!
"The education James and Kim present is unparalleled to that of other courses. This course will give an open-eyed approach to a modern pregnancy and give possibly new insight to natural births. I learned how 'We are What We Do' is directly related to the pregnant client, as well as her baby–and potentially her grandchildren."
Stacy Loveland, Personal Trainer
"This course will take trainers to the next level."
Rhonda Barrera, Physical Therapist Assistant
"Tremendous information that will absolutely change the course of my own pregnancy and how I train my clients. Thank you for taking the fear away."
Sue Spinelli, Pilates Master Instructor
Location:
Prenatal Education Center
4662 E. Katella Avenue, Suite M Los Alamitos, CA 90630
www.prenataleducationcenter.com
Pre & Post Natal Corrective
Exercise Specialist
Live Workshop
or SIGN UP FOR OUR EASY PAYMENT PLAN
Give us a call to answer your questions: 786-200-8949